Discussion Starter
·
#1
·
Ok I wanted to be able to lift the Valkyrie of the deck for several reasons.
If it is off the deck I can wash, service and generally tinker with it a lot easier. I can also take the wheels off it if needs be but generally jacks are pretty expensive. To top that off the bottom of the Valkyrie isn't flat and there are no chassis rails there so it can be a bit awkward.
Some "ATV" jacks (650kg) were on sale at "Super Cheap Auto" for $85 so what the ****.
As I said the bottom of the bike isn't flat but a couple of pieces of particle board in the right place gives a reasonable purchase to pick the bike up. The big long one goes to the back of the engine just in front of the water bottle. The other 2 smaller ones go more to the front either side of the seem in the middle.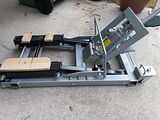 ..and here we are the girl is off the deck. Now it works, I can wash it there if I am careful but zero chance of taking a wheel off else it will tip and if you are silly enough to stand up and grab a hold of the bike to do so you may be in for a very very sad time as it topples to the ground.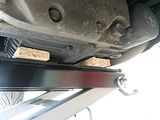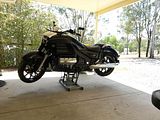 I washed it in the above position once and knew I was asking for trouble. I considered making this and that and then yesterday the light went on in my head and I went out to the shed and grabbed some car stands.
Problem solved.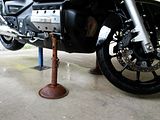 It is rock solid with these in place. I can take the wheel off if I chose. I can lean on it. I even sat on the beast to check placement of my phone holder. Absolutely rock stable.
I just spent a few hours listening to music and cleaning the beast. So much easier to do it when it is off the ground and detailing the wheels is a dream when you can spin them. It worked out better then I expected from buying a cheap and nasty jack that wasn't going to fit