Discussion Starter
·
#1
·
The Tenterfield Cruise 02 April 2016
https://www.youtube.com/watch?v=2BCubfHwCnQ
Myself and Allan met at Jimboomba servo around 5:00am and got down to Canungra about 5:20am. We had a great breaky and then gas bagged right up until 7:45am. It was just one of those no rush days.
We had a superb cruise down to Woodenbong where we stopped for another break, spoke a lot of BS and then wandered off down the Woodenbong to Killarney Rd to see if they had fixed it. Yes and no. Some is nice, some is D grade but we still had a great time.
Woodenbong, look at that sky.
We stopped at Warwick, had some lunch, kicked back and took our sweet time to do anything before heading off down to Tenterfield. At Tenterfield the same pattern was followed again. This day was not meant for rushing. It was simply a superb day both in weather and temperature.
Arriving at Tenterfield.
Allan and Shane (Shrubbo) at Tenterfield.
We had never been up Mt Lindsay Hwy from here. I knew it was once a dirt road but not sure about now so I asked Allan if he wanted to go on an adventure. How bad could it be?
Corrugations on the Mt Lindsay Hwy about 30k outside of Tenterfield.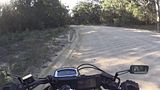 LOL seriously don't do it unless you like the best part of 40k's of on and off corrugations and dirt but honestly I laughed my butt off and had a great time. I won't do that road again but if I could go back in time I would still do it, we have intercoms and the banter was hilarious. I haven't had such a good laugh in a long time.
Stopped for a break, lol that was rough.
Apparently these are the new Adventure Tourers from Honda.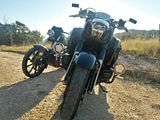 Fully sick off road beasts.
Only hours before were these things clean.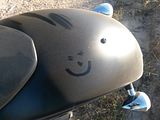 We made the turnoff to Spring Crk Rd just on dusk, it runs up past Queen Mary Falls. I got 12000 lumes of auxiliary lighting on my bike for just such and event. Night riding is something special and as long as you got the lights and you keep the speed down it is a wonderful thing. I love it.
The Queen Mary Falls turnoff.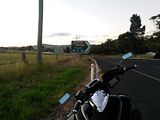 We came across some roos, some cows, some bulls and some creek crossings and at the speeds we were doing it was no big deal but it was a lot of fun. I will remember this ride for a long time.
They laughed when I put 12000 lumens of auxiliary lighting on my bike.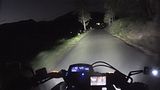 Nobody is laughing now... moo! (BTW those dark patches are actually dead bugs on the lens
)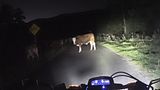 Yeah baby...
We had another break at Boonah and then one last one at McDonalds at Beaudesert before the last leg home and we went our separate ways.
I saw this one coming...
This wheel is meant to be gloss black
What a day, for me it was the best cruise yet. Perfect day, perfect weather, great company, no rush and no schedule. We weren't even sure we would go to tenterfield, just possibly. Sometimes the best rides are when you say "Want to go on an adventure?" and see what happens