Discussion Starter
·
#1
·
Hubcaps stayed with us in Maggie Valley Thursday night so he would have a shorter ride up to Slade.
The weather forcanters, for a change, seemed to be sadly accurate. It rained overnight and we left Maggie Valley riding on damp roads with the promise of rain. A quick gas stop at the place where I get my new tires put on the rims I take in.
Apart from a 15 minute road construction wait we had a steady ride up and over "The Rattler" to Hot Springs.
A few miles west we stopped to put on the rain gear we would wear the rest of the day. Steady rain didn't dampen our spirits but did slow us down. the creeks and rivers we rode next to were pretty full.
I missed a couple of turns due to rain drops on my face shield and glasses obscuring street name signs. Fortunately Mike had his BFGPS operating and quickly got us back on track.
In the clouds going by the Bean Station overlook.
Approaching the Cumberland Gap tunnel the skies had cleared and we rode under patches of blue sky.
A portent of what was ahead was evident in the water running downhill along the gulley at the side of the tunnel.
We emerged into rain AND a Caseys gas/truck stop. We both needed gas and a leg stretch along with other business to take care of.
As we walked to the exit Mike and I discussed riding a little further before stopping for lunch. And the skies opened up making our lunch stop decision easy. The Casey burgers and hot chocolate were pretty good. One of the counter clerks told Mike there was a tornado warning. By the time we finished lunch the rain had stopped and all we had to put up with was wet roads and lots of ground water crossing the black top in places.
Find Pizza, Snacks, Fuel, and More Nearby | Casey's
In Pineville we turned right off 25E onto Hwy 66 to Oneida KY and then Hwy 11 to Slade. Pretty good road but so much water. I have only seen more water spurting, splashing, dripping, flowing, cascading out of the mountain side on "Going to the Sun" road in Glacier National Park.
The creeks and streams were FULL. In some place over their banks. So much water. Some gravel washouts from driveways and newly formed streams flowing across the road. Some were deep enough we had to slow way down.
Somewhere along 66 a deer appeared to the left of me and decided to run along the grassy verge next to me. I was trying to brake/accelerate/swerve/sound the horn/point at it. I accelerated and saw it in crossing the road behind me.
I wanted a photo of the water cascading and stopped at the biggest cascade.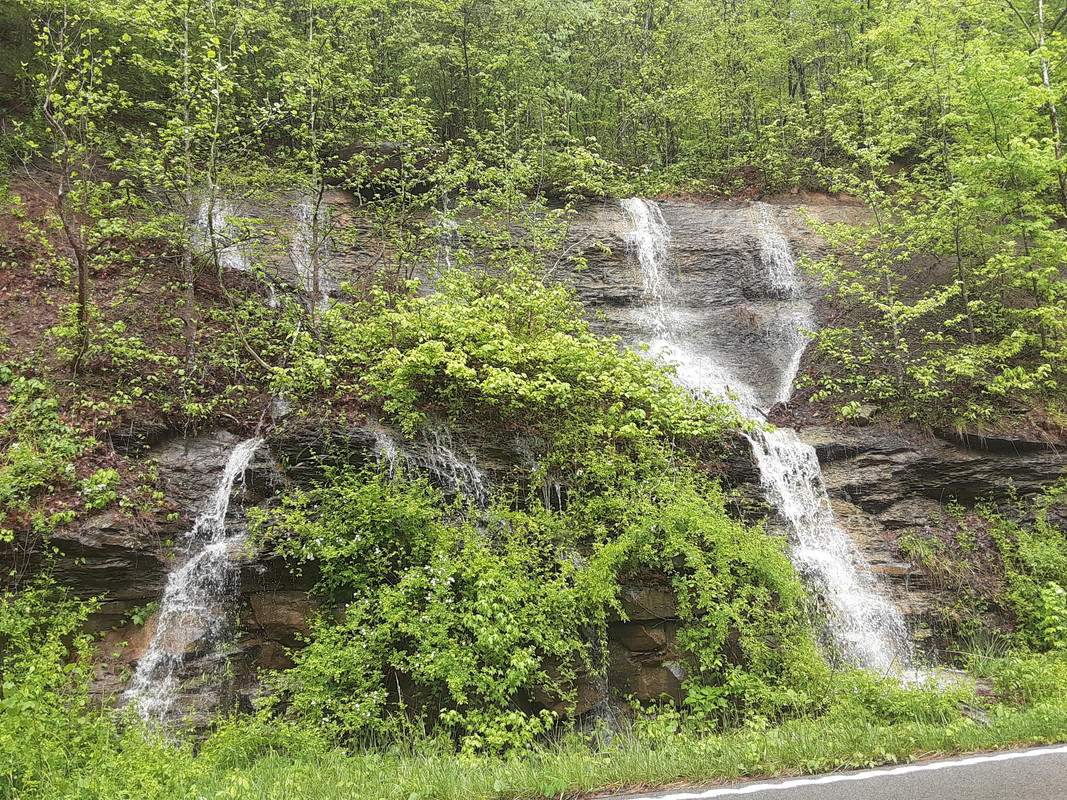 As we were getting ready to roll again I told Mike I thought it was about to rain again. Before we could get on our bikes a very large bottomless bathtub of water was dumped on us. The sudden rise in humidity and drop in temperature meant my face shield instantly fogged over. Raising it to try and see meant my glasses were covered in water. The rain was so hard we were rolling at about 20/25 m.p.h with four way flashers on. Thunder and lightning and strong gusty wind and no shelter to be had.
Hooray a gas station we could shelter at.
Mike had coffee and I wrang out my previously dry gloves.
After about 15/20 minutes the rain stopped and on we rode.
A couple of dog encounters, a few cats, a passel of squirrels, some buzzards and one large eagle kept me on my mental riding toes.
Finally Slade. Google Maps had estimated a travel time of about 5 1/2 hours. It took us nearly 8 hours total due to weather stops and slower on road speeds due to the wet roads.
Fortunately the motel room had a couple of good heaters we were able to dry out our damp and wet clothes.
The BBQ next door to the motel sucked and that's all I've got to write about that.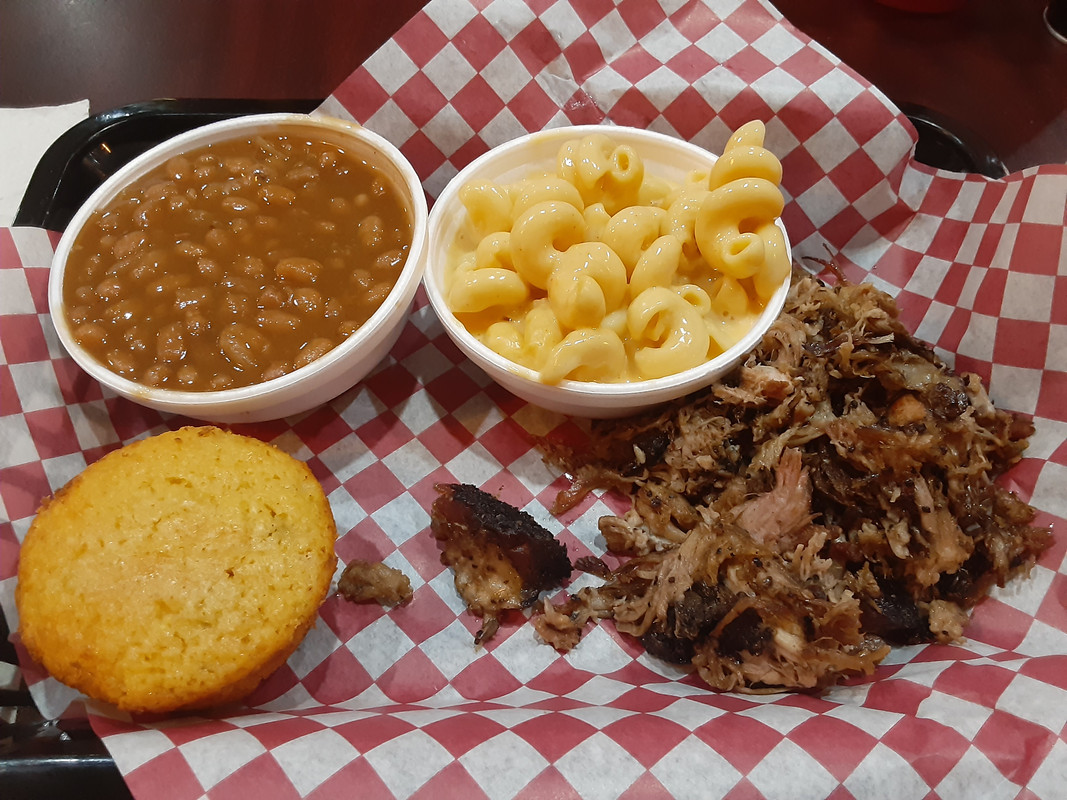 Some time spent talking with others and an early night for me. Moonshine and Goldfish - wink, wink.
Relive 'Maggie Valley to Slade, KY May 6, 2022'
Saturday was still damp. Mike and I went to find breakfast south of the motel. We were misled and ended up eating at the
Daniel Boone Coffee Shop in Red River Gorge
north of the motel. A pretty good breakfast.
Still damp and most seemed settled for the day. I'd checked with the Skylift to find it was operating so off I headed for a ride through the trees to the top of the Natural Bridge.
https://naturalbridgeskyliftandgiftshop.com/
$16 for a geezer roundtrip ticket.
To the Natural Bridge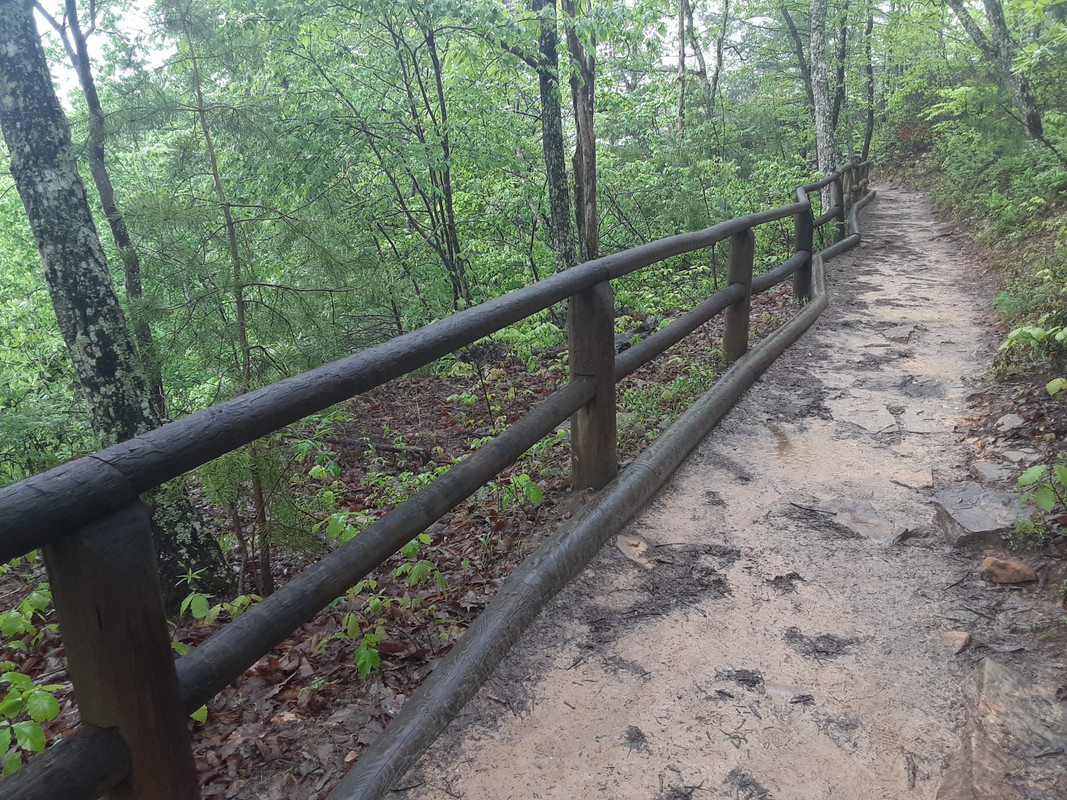 Standing on the Natural Bridge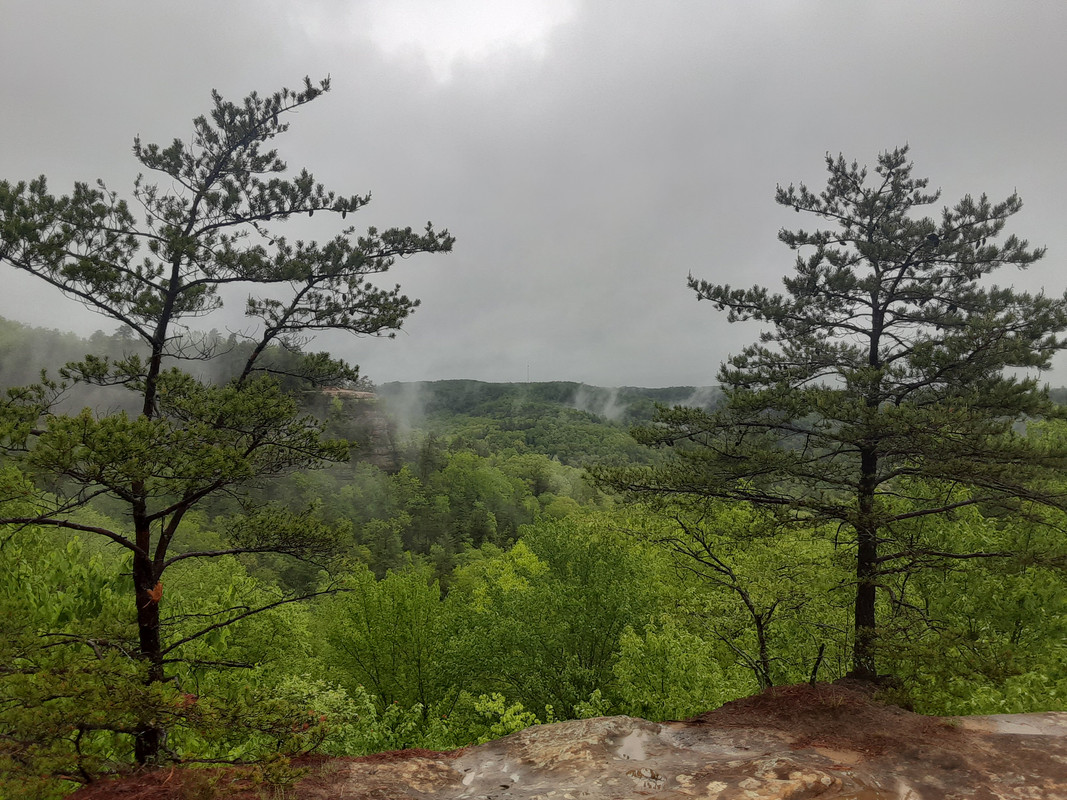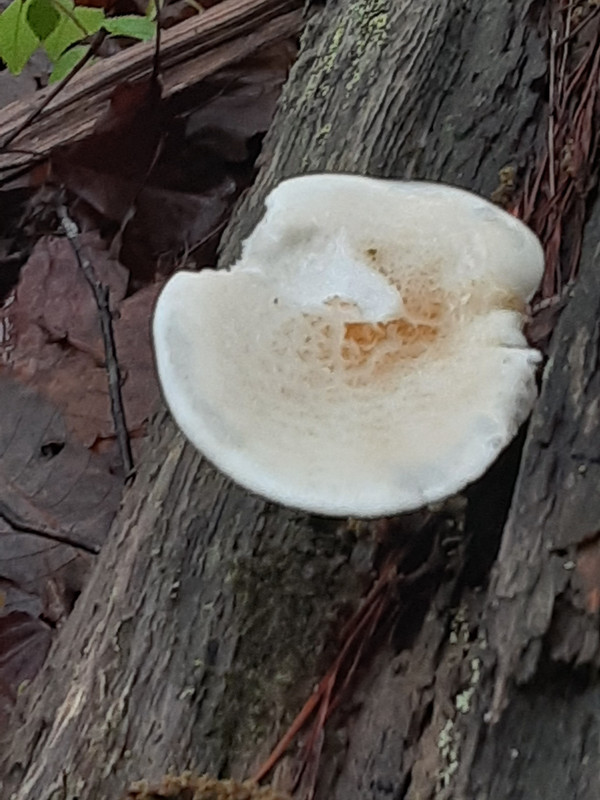 I saw Bigfeet!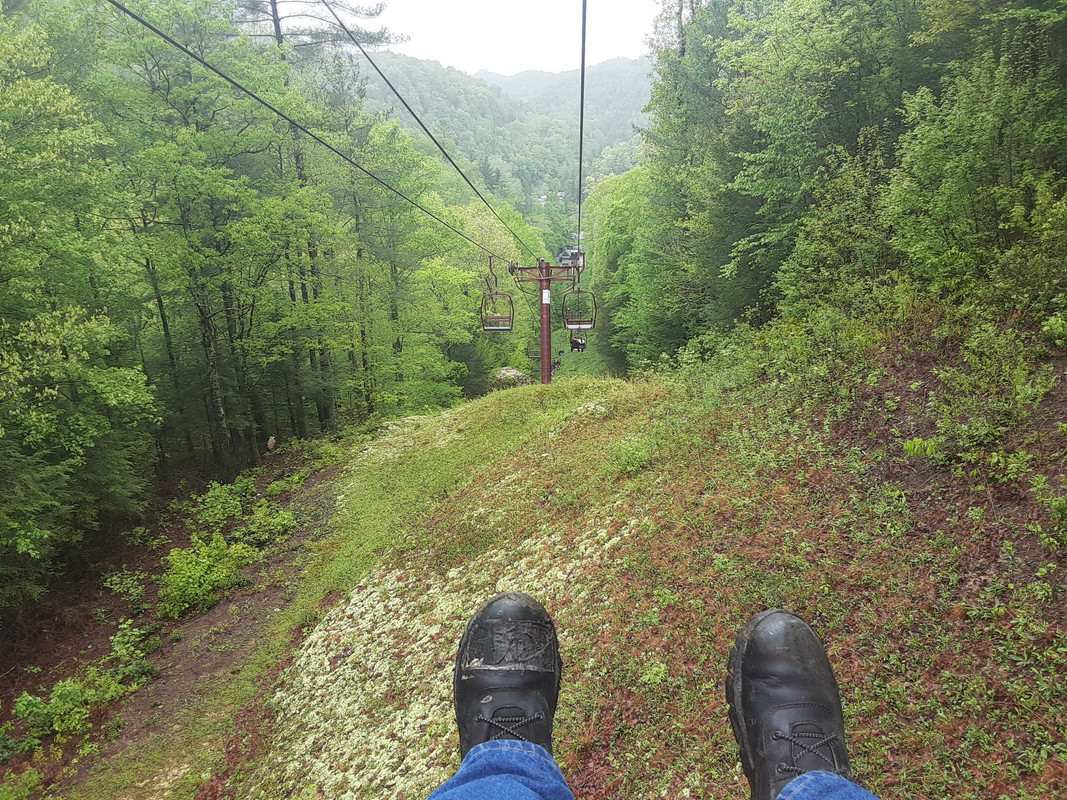 I've ridden a few cable cars but this was my first chair lift. I liked it.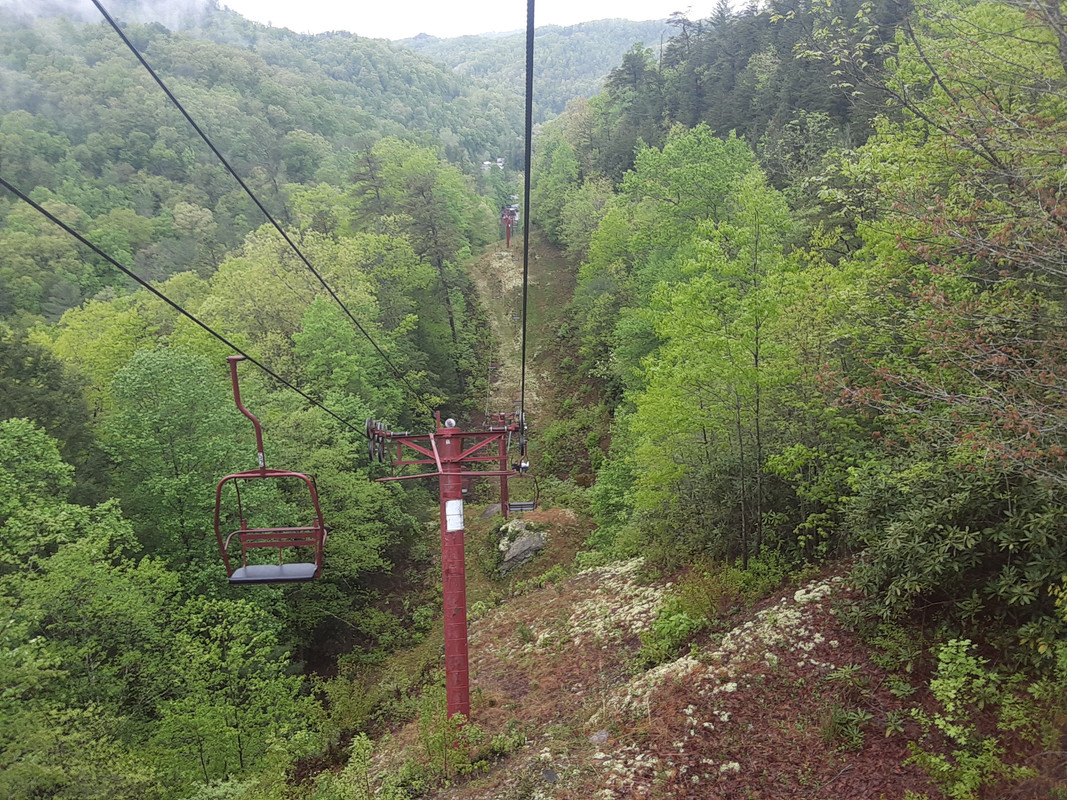 I forget to record the trip in Relive.
I ate a Subway salad lunch and spent the rest of Saturday talking with others.
The ride home Sunday was pretty uneventful compared to the Friday ride.
Beattyville, KY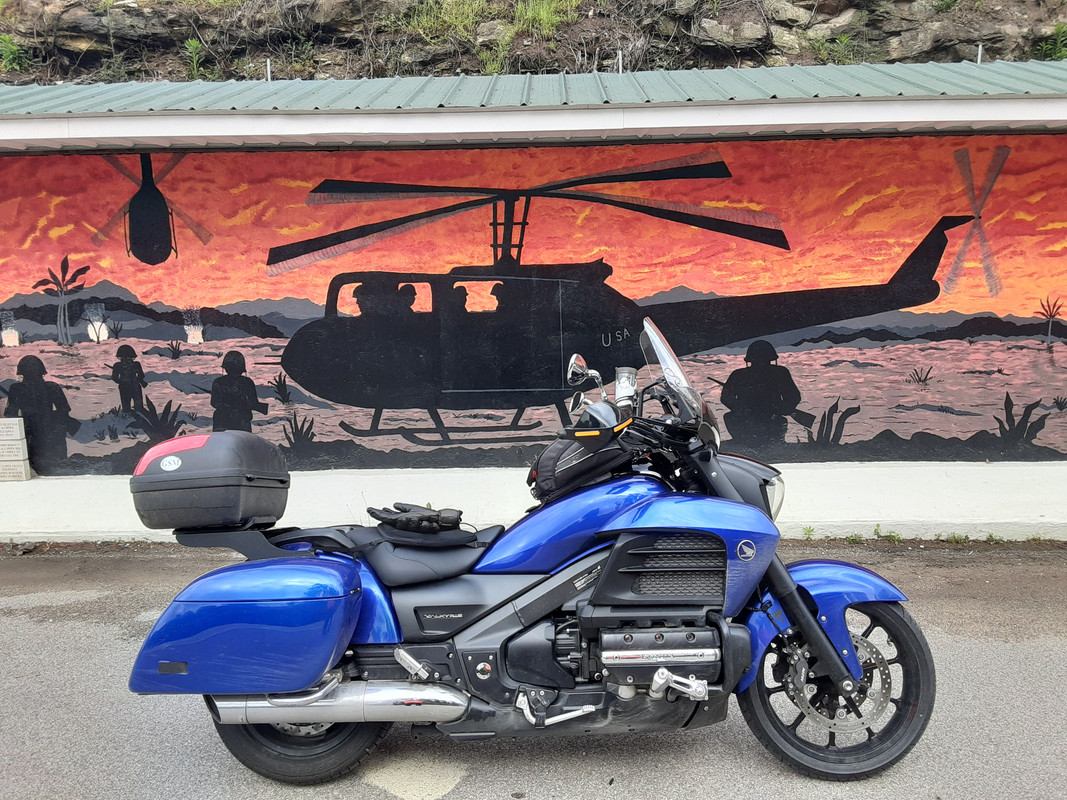 Stopped at Pinnacle Overlook / Cumberland Gap and Bean Station.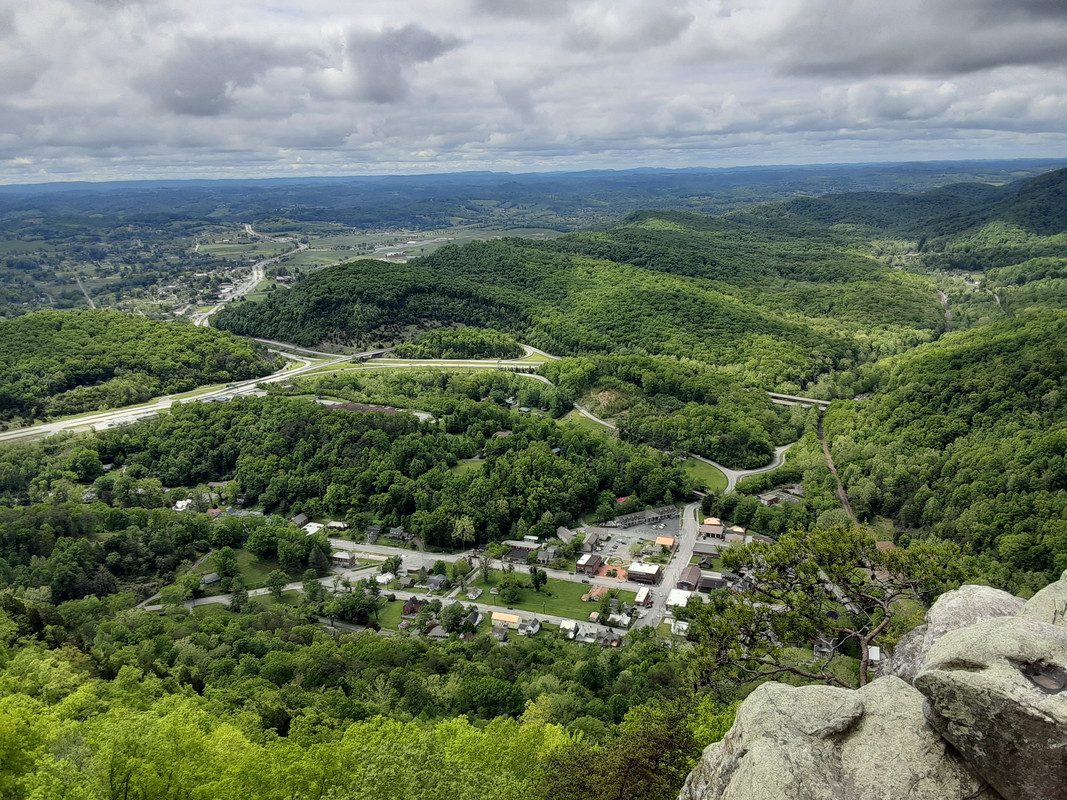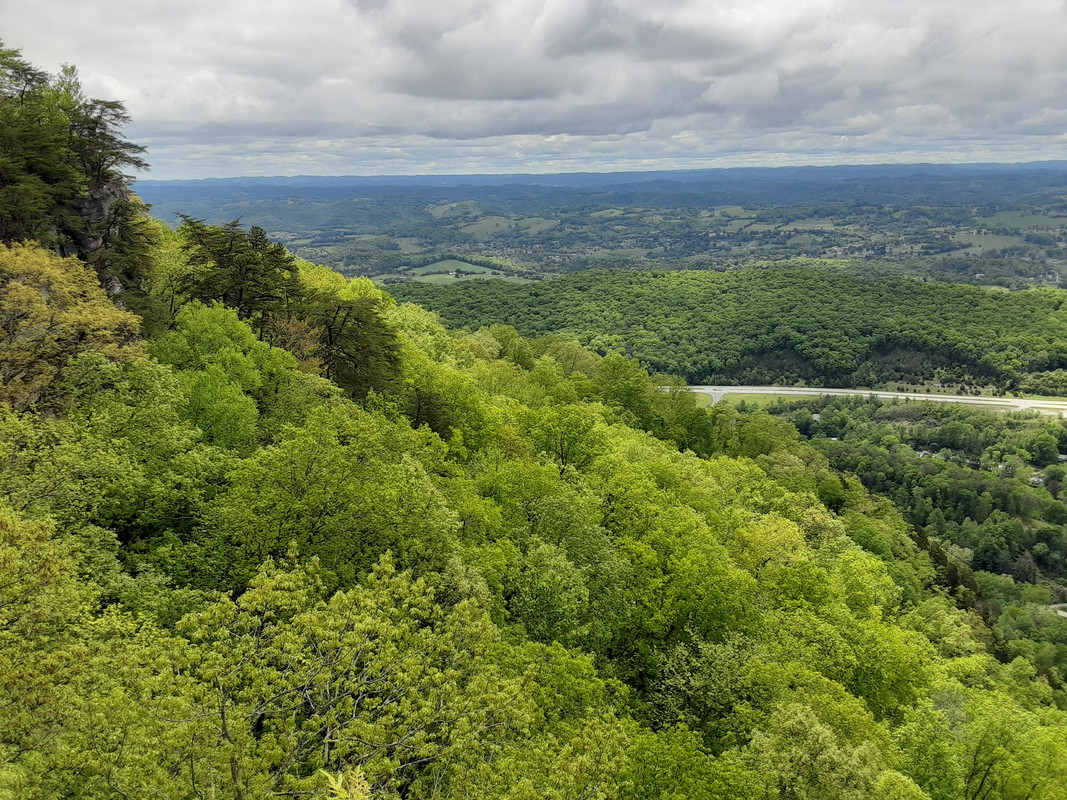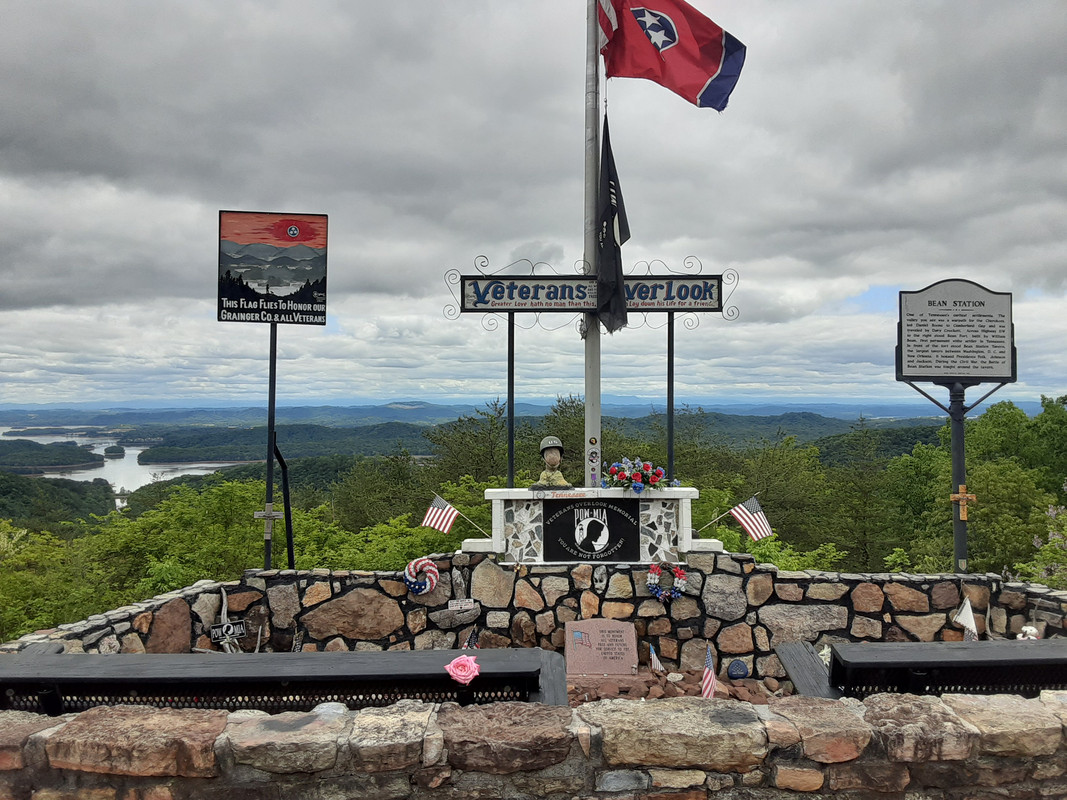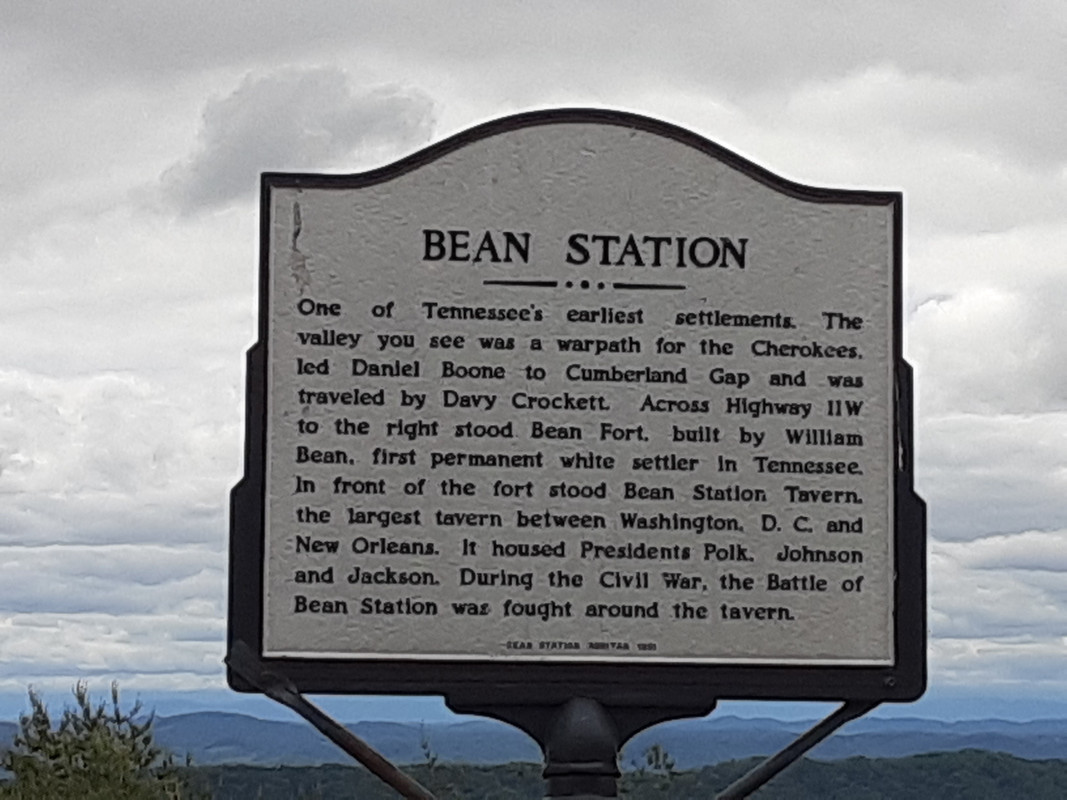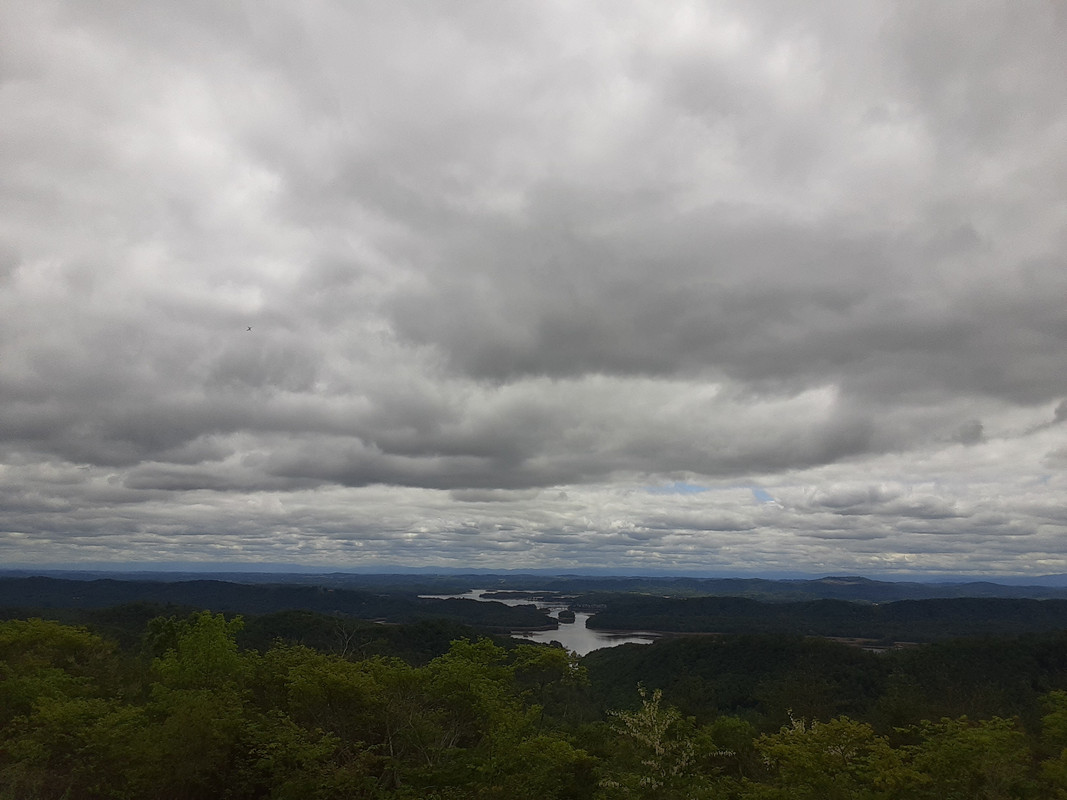 Stone wall topper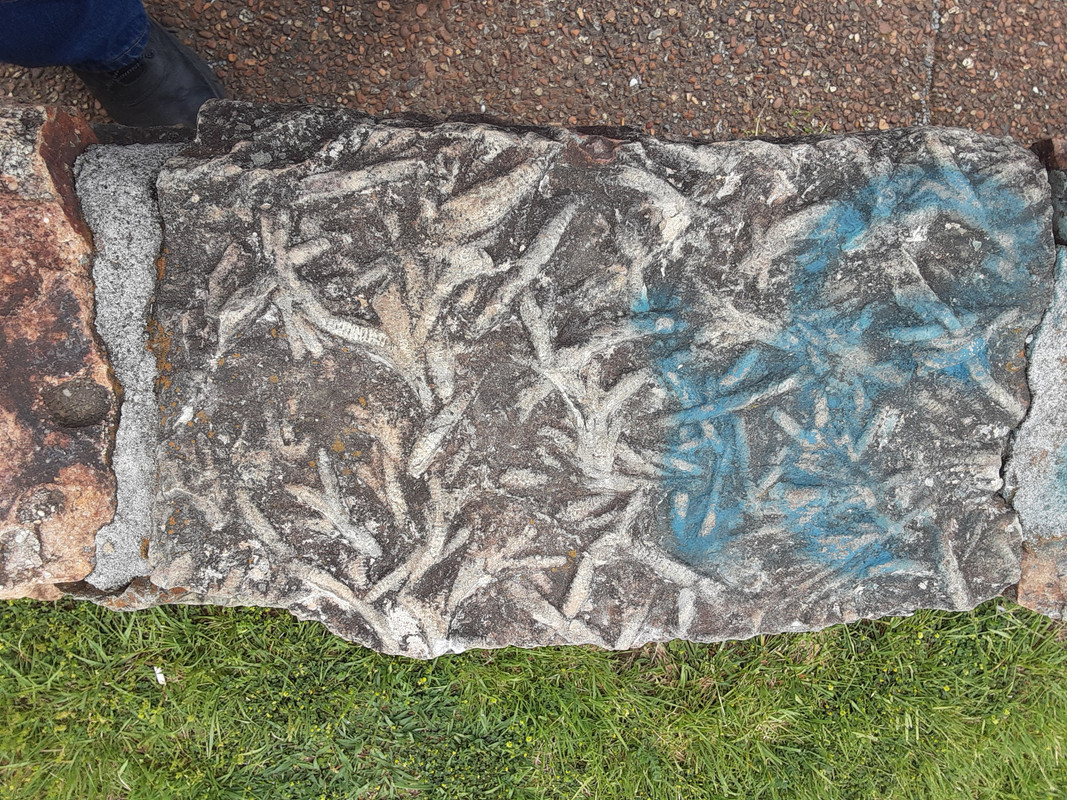 Lunch at the Bobarosa Saloon in Del Rio TN.
www.bobarosasaloon.com - The Official Bobarosa Saloon Website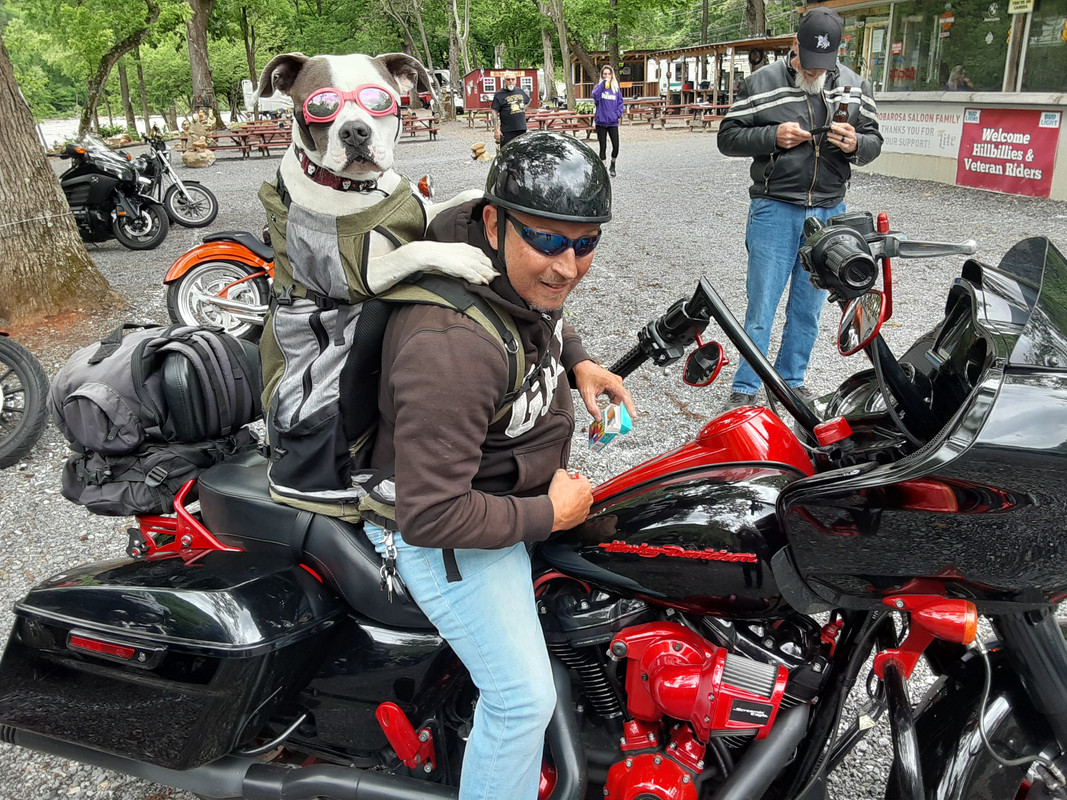 She was ready to ride!
Relive stopped recording part way.
Relive 'Slade KY to Maggie Valley. May 8, 2022'
Just north of Maggie Valley we said our goodbyes and Mike headed back to Seneca and me to home.