Discussion Starter
·
#1
·
Ride to lunch in Brevard, NC yesterday. October 10, 2021
Rolled out of the garage under clear blue sky and 60F.
A blast up the mountain out of Maggie and onto the BRP. It's leaf peeper season here in W NC and I'm reconciled to slow vehicles and drivers doing really dumb things. Patience grasshopper is todays mantra that need to be the "sound worm" in my mind.
Not much impeding going on until I pass the Waynesville BRP access and now there's more traffic heading towards Asheville. I settle back in the seat, feet up on highway pegs and stay alert for late brakers and oncoming lane drifters.
I'm not disappointed and a few times I have to wildly gesticulate with my left arm to make view drugged drivers aware of me. The triangle of bright LED lights pointing at them isn't enough to make them aware Shocked
I'm riding at about 10 over and I hear a faint siren sound. Mirror, mirror, mirror. There it is! White SUV behind me blues and reds and siren wailing.
Crap I hope it's not for me. Its been so long since I got a BRP ticket.
I quickly formulate my reason for speeding. I heard the siren very faintly and there was no room to pull over safe;y and I wanted to get to a straight section of road.
The best I can come up with as I accelerate a little more to get through the curves. A straight section. I move right, slowdown and wave the vehicle by. IT GOES BY ME! Hooray!
It's a Park Ranger in a hurry and I'm not the reason for the hurry. Hooray!
At Black Balsam the outdoors men and women are outdoors in their multitudes scrambling to find a parking space either on black top of the roadside verge. The vast Smokies is at their feet and yet they congregate like lemmings in a few spots. Desperate to explore the outdoors away from others they cram themselves into giant hamster wheels and fight for space on the few hiking trails.
The same frenzy is evident at the Falls next to Hwy 276 on the ride down from the BRP towards Brevard.
No concern for other road users as drivers try to cram SUV's and large pickups into compact car spaces. A slam on the brakes and a desperate veer across the road to make sure that last space is THEIRS. No care or concern for following or oncoming traffic. PARK OR DIE!!!
I'd chosen my route so that I'd be riding down 276 against the uphill traffic I knew would be flooding out of Brevard. A few lane drifters and I'm free of other impediments.
It never ceases to amaze me that so many drivers believe that a bend in the road is narrower than the straight leading to it and they must get the edge of their vehicle on or slightly across the center line so as to not run off the road on the passenger side of the vehicle.
In the same vein the riders who have their wheels right next to the center line on left bends and happily lean their upper torso across the center INTO the opposing lane with scant regard for any oncoming vehicle. Maybe these are also drivers who drive as if the road narrows in a bend?
Lunch at the giant Twin Dragons Chinese buffet in Brevard is excellent as usual. The salmon in garlic sauce is one of the reasons I keep this as a RTE destination.
Now homeward bound and I chase a Nissan Titan up Hwy 215 towards the BRP. It's a gas manual and being driven with a great deal of gusto and provides me with some radar protection.
He heads north on the BRP and I turn south towards home.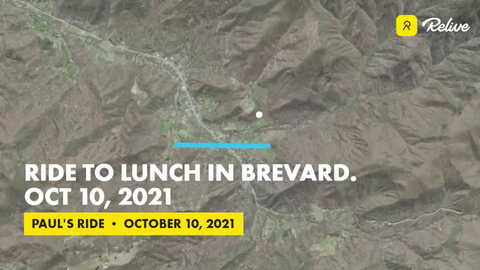 View my ride: Ride to lunch in Brevard. Oct 10, 2021
www.relive.cc