Discussion Starter
·
#1
·
The price of the OEM 12v cigarette lighter plug under the seat made me choke and the fact it switched off when the bike was turned off made it useless to me. I need to charge batteries for my camera, phone and Sena intercom pretty much all the time when I am out so I went another way.
To start with I installed a cheap cigarette lighter plug from ebay into the OEM position and then I wired it to the toggle switch that you can see and then that directly to the battery through fuses of course. The switch and the plug was about $15 AU.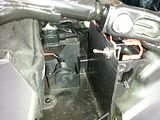 Here is the same storage area except fully loaded now. Owners manual, toolkit, tire repair kit, insulation tape, camera battery charger, spare earphones, several different usb cables + adapters + plugs and sunglasses. It all fits and I can flip that switch on and off no problems.
I then installed a weatherproof dual usb plug on the bars that is also controlled through the same switch under the seat.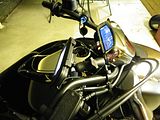 They allow me to power my phone aka satnav that I also installed a weatherproof case for. The thing sucks power like no tomorrow when the GPS is in use.
Pretty happy with the way it turned out. I like the general look of the setup and it works just the way I want to to. The only thing I am going to do in future is source a bit of radiator pipe/heater hose that is the same diameter as the USB socket if I can. It is only weatherproof with the cap on and the cable unplugged. I figure if I put something with a bend on it then it should stand up to most rain with the plug left in.
So all up 1 cigarette lighter plug under the seat and 2 usb points on the bars for a lot less then a single OEM plug and for me at least a lot more useful.